Snow. Family. Love. Joy. Oysters. Ham. And a rockin' band.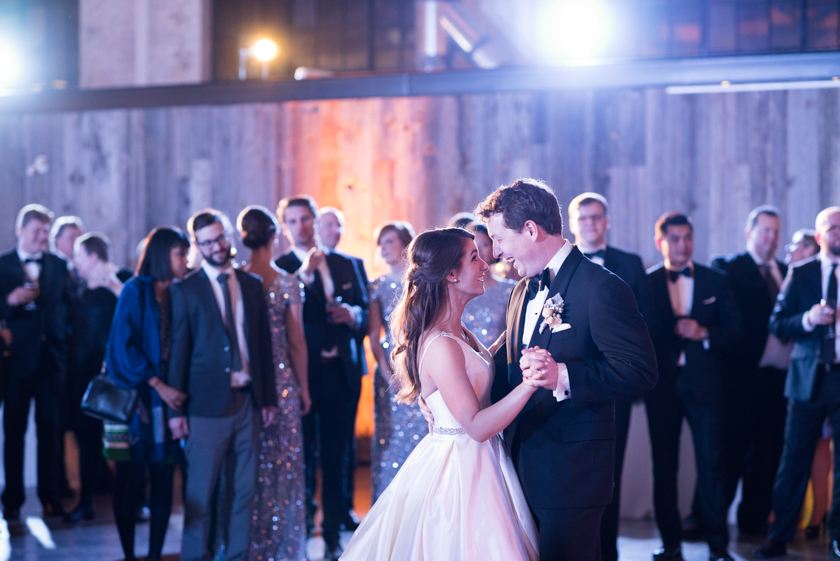 If you remember the winter of 2015 as vividly as I do (I know I know it's taken me too long to blog this wedding), you'll remember that Christmas Eve was warm and sunny with zero snow on the ground. I spent the afternoon outside in the backyard pushing my little girl on her swing. Not a typical Canadian Christmas Eve and my winter brides were beginning to wonder if they would have the white, snowy weddings they had hoped for. Thankfully, the gods were smiling on them and the snow came and came and came and frankly didn't stop coming. In fact, Marielle and Norm's January wedding was snowy and cold and just as perfect as a winter wedding should be.
I met Marielle years ago and although she and Norm had known each other for years, they had only starting dating shortly before I met her. Given my occupation and Marielle's love of parties and beautiful things we had a lot in common and often spoke of likes and dislikes when it came to wedding related things. Fast forward several years (because I could talk at length about when I asked for her help on photoshoots, fundraisers and advice on all things Communications and weddings!) the day came when Norm proposed and we got to start talking about her own wedding and all the things they wanted to incorporate into their wedding day: classic and a great party were two of the reoccurring themes and that's exactly what they created.
Their ceremony took place at the Notre Dame Cathedral on Sussex just down the road from Marielle's family home in Rockcliffe Park and Norm's band The Hornettes played at their cocktail-style reception coordinated by Julie Barake of  Chic Wedding Planning. Have you heard the Hornettes play? (shamefully) I admit I hadn't until the night of their wedding and they now have me dreaming of backyard parties (beach parties maybe?) where they play for all my friends into the wee hours of the morning. The dance floor at Marielle and Norm's wedding was packed the entire time, the sign of an excellent party and the food was another incredible part of the day. Friends of the family, North and Navy provided the most incredible charcuterie table, Marielle's grandfather's ham recipe (a Christmas time tradition) was prepared with love and placed front and centre, Whalesbone provided an extremely popular oyster bar and the crème de la crème was the incredible spread and desert table created by another caterer friend, Candice, a close friend of the mother-of-the-bride.
What did I take away from this incredible night? I didn't want it to end and it went by way too fast. It's the absolute best seeing my friend so happy, celebrating her and Norm's new life and now they await a new life due in January 2018. The best is yet to come. xoxo